School's out! Summer's here! WIN a collection of ebooks for kids of all ages including a copy of Wally the Warm-Weather Penguin!
To kick off summer vacation, we've coordinated with a wonderful group of authors to put together a collection of children's ebooks for kids of all ages. The theme is Sea Creatures and we've collected everything from a coloring and activity book to rhyming, board book for young children and middle grade fiction to chapter books for older kids. And since we know parents already have enough stuff to haul around on vacation, we're offering a set of Kindle edition ebooks so you can bring them all with you on any device — Kindle, tablet or computer.
Take a look at the fantastic collection of Sea Creature books:

Barney and Barry, The Hitchhikers by Sharon Powers
How would you like to wake up and have unwanted visitors attached to you…for life?
Sharon Powers creates memorable characters and a fun read in her first children's book "Barney and Barry, The Hitchhikers".

Doonsey's Beach Adventure, the Great Rescue: Coloring Fun & Activity Book by Rhonda Paglia
Meet Doonsey's new friends and learn more about the Beach Buddies with coloring, matching games and even some Knock, Knock jokes!
Rhonda is a retired elementary teacher and grandmother who has self-published four children's books.

Jake's Adventures: The Secret of the Shark Tooth Crab Claw by Melissa Moraja
Jake Wunderkind's next super adventure begins when he sets out to rescue a mysterious sea creature caught in a fishing net. But in order to do so, he has to include his annoying brother and tattle-taling sister.
Melissa is the award-winning author of the Wunderkind Family children's chapter book series.

Kojo the Sea Dragon Gets Lost by David Chuka
In this fun animal book for kids, young children will discover the value of friendship and the consequences of not listening to instructions.
After struggling to find a book for his daughter who was a beginner reader, David was inspired to write his first book and hasn't looked back since…10 books and counting!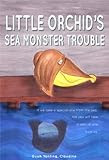 Little Orchid's Sea Monster Trouble by Claudine Gueh Yanting
Little Orchid, a nine-year-old girl living in a fishing village in Singapore, struggles to prove to her mother that the Giant Cuttlefish exists, but ends up turning into a miserable sea monster herself.
Claudine writes middle-grade fiction and picture books, reads, paints, and blogs at
CarryUsOff Books.

Wally the Warm-Weather Penguin by Stephanie M. Ward
Wally is an Emperor Penguin from Antarctica who dreams of warm weather, so he heads to the Galapagos Islands and discovers tap-dancing crabs, racing hundred-year-old tortoises and diving birds with bright blue feet.
To enter the contest, simply click on the Giveaway tab on Wally's Facebook page or visit Brooke Blogs to enter to win.
HURRY, contest ends on June 20th. Good luck!